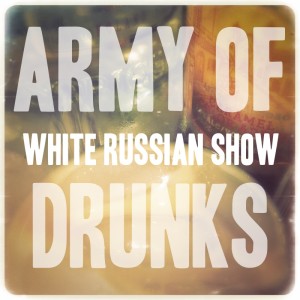 THE WHITE RUSSIAN SHOW
With Aydrea Walden
(Author of The Oreo Experience)
The White Russian?  Is it more than just a Black Russian with cream?  Actually, no.  But just like "cream" can mean the difference between an NC-17 and X rating, the mighty dairy product does something special that takes this cocktail to a sweeter and sweatier place.
Join us as we explore the details of the White Russian, and since we really covered the Black Russian in another show, also discuss the details of the 1985 film "White Nights," with Gregory Hines and Mikhail Baryshnikov.
But our real star is Aydrea Walden, author of "The Oreo Experience" blog, and creator of the stage show of the same name.  Aydrea regales us with tales of growing up as a self-described "Oreo," or "total whitey trapped in a black chick's body," why it was impossible to convince her white peers in a Texas high school that no, she did not like "Boys II Men," and how she still can make an East Coast W.A.S.P. uncomfortable.
We also discover a how you, too, can go to an actual bathroom in the middle of a lake, play "Which is Whiter?" and find out what's in Shaw's Craw.
Subsribe on iTunes!
https://itunes.apple.com/us/podcast/the-army-of-drunks/id936560275
Or listen directly here!

DRINK ALONG AT HOME!
The White Russian
5 parts (or 2.5 oz) vodka
3 parts (or 1.5 oz) Kahlua or coffee liqueur
1 part (or 1 oz) cream or half-and half
Ice (duh)
The biggest point of contention in all White Russian recipes is the balance of ingredients.  After some experimentation, MixMa$ter Therm determined the 5-3-1 of vodka to Kahlua to cream seems to be the optimal combination.  Fill a glass with ice, add the vodka and the Kahlua, stir affectionately, then add the cream on the top.  Drink while imagining you're as cool as anything that happened in The Big Lebowski.
CHECK OUT AYDREA WALDEN'S WORK!
The Oreo Experience Blog
The Oreo Experience Live Show
THE CROWLEY LAKE FLOATING OUTHOUSE
No photographic records exist of this outhouse, leading us to believe that is really is a supernatural phenomenon.