OLD FASHIONED SHOW – HOLIDAY REDUX!
With Johnny Amerika
Holiday time is upon us, and as the Drunks gear up for Season Two, we regift a show from Season One, now with added fruitcakery!  MixMa$ter Therm tells you how to make your own Holiday Five-Actually-Seven-Spice Liqueur to give as a gift to the ones you claim to love!
Meet mad genius Johnny Amerika who builds the sort of machines you only come up with when you're drunk as the Army of Drunks get ice-balls deep in the (Whisky) Old Fashioned cocktail, a drink older than anyone alive today.  We also hear news from the drunken hamlet of River Falls, learn the story of a real-live Killdozer, and drink seven-week-old eggnog without dying.
Subsribe on iTunes!
https://itunes.apple.com/us/podcast/the-army-of-drunks/id936560275
Or listen directly here!

MIXMA$TER THERM'S HOLIDAY FIVE-ACTUALLY-SEVEN-SPICE LIQUEUR!
Infusing liqueur is  a (sometimes) cheap and (always) easy way to create a gift that makes you look a like an artisan badass.  MixMa$ter Therm set out to concoct a booze based on the original "Chinese Five Spice" spice mix, and two extra spices later had a perfect Christmas liquor for getting loaded under the tree.  You will need:
1 oz. cinnamon stick(s)
1 oz. whole cloves
1 oz. star anis
1 oz. fennel seeds
1 oz. black pepper corns
1 oz. whole nutmeg
1 oz. whole allspice
1.75 liter bottle of vodka
Approximately 2 cups simple syrup (1 part sugar to 1 part water)
REGARDING THE SPICES – Yes, we suggest buying them whole, not ground.  It's not the cheapest way to go, but you'll have enough left over to make gallons of the stuff if you want.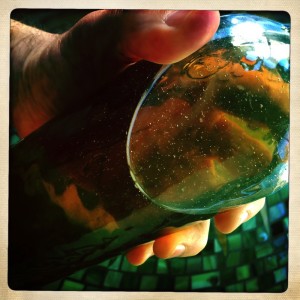 Measure out 1 oz. each of the spices and put them in a big pile.  Mash the cinnamon sticks and the nutmeg if you want, but otherwise toss everything in a frying pan and toast it up over the stove.  (That means just heating them up for a few minutes while you toss them around in the pan.  NO STINKIN' OIL!)
Coax all of those spices into a big-ass bottle of vodka and let it sit for about three days.  Be sure to turn the bottle over a few times once or twice a day to keep them flavors mixin'!   When the three days are up, strain out all of the spice through a fine strainer or a loose coffee filter or the powers of your mind or something.  (And yeah, you'll need a big bowl to dump all of this Christmas-tasting liquor into.)
Add simple syrup to taste, but we found a 1-to-4 syrup-to-vodka ratio worked quite well.  This would be about 2 cups of simple syrup for 1.75 liters of infused vodka.  Sip along the way to make sure you've done it right, and to make the time pass faster.
Pour your finished liqueur into smaller bottles, slap home-made labels on them that read "Annie's Secret Christmas Cheer Elf Potion" or something equally f***ing adorable, and give them out to anyone you want to impress.  Sit back and reap the holiday benefits, or just get drunk on pure Christmas magic!
AND NOW FOR THE SHOW NOTES…
DRINK ALONG AT HOME!
The Whiskey Old-Fashioned
2 oz. bourbon or rye.  (Or a mix.  We used three parts bourbon to one part rye.)
1 sugar cube.  (Or 1/2 oz simple syrup.)
Angostura bitters
Orange slice and/or peel
One non-marchino cherry (optional)
Put a sugar cube in a glass and soak it down with bitters.  (And add a little water if that's how you roll.)  Muddle it.  Pour in the booze.  Add a slice of orange or orange peel, and a cherry.  DO NOT MUDDLE THE FRUIT, DAMN IT!  Serve like you mean it.
MixMa$ter Therm gazes with dread upon the seven-week old eggnog.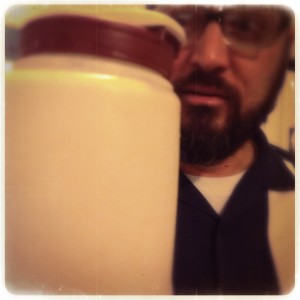 Here's Johnny's  trebuchet commercial.
https://www.youtube.com/watch?v=PZbG9i1oGPA
And the story of Marvin Heemeyer.
http://en.wikipedia.org/wiki/Marvin_Heemeyer