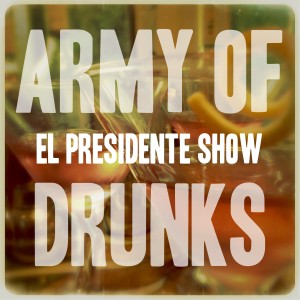 THE EL PRESIDENTE SHOW
With Jhonen Vasquez
(Extended Cut)
Yeah, we were going to do a show about the Zombie, but it turns out that's way more complicated than we thought.  Seriously, no two recipes are alike on that cocktail, and one of them involves cooking up your own spice mix.  Seriously.  So in honor of re-opening relations with Cuba, we present a cocktail that was founded in Havanah during prohibition and crossed that small patch of ocean to the United States.  In the process we learn they never should have added the goddamn grenadine.
Our quest is Jhonen Vasquez, comic book artist and creator of the INVADER ZIM cartoon series.  We talk a little about the new INVADER ZIM comic, and talk a lot about other random things like robots, murder, horror movies, the glorious absurdity of adults being stupid for a living, and how to rule with an iron scrotum.  (NSFW as always.  And really not safe for kids.)
Subsribe on iTunes!
https://itunes.apple.com/us/podcast/the-army-of-drunks/id936560275
Or listen directly here!

DRINK ALONG AT HOME
The El Presidente
We went through a couple of recipes until we found what we think is the optimal version of the El Presidente.  The secret: NO GRENADINE!
MixMa$ter Therm's Optimal Presidente:
2 parts white rum.  (Something better than Bacardi if you can find it.)
1 part dry vermouth. (Dolin white is the most recommended.)
1/2 part orange curacao.
Shake all ingredients in a shaker, like you do, and pour into a chilled glass.  Garnish with an orange peel if you have any style at all.  Drink while you oppress the common people.
Oh, and when you're done… always refrigerate your vermouth!  It goes bad.
But if you insist on trying the more mainstream version:
2 parts white rum.
2 parts dry vermouth.
1/2 part orange curacao.
Dash of grenadine.
Shake everything in a shaker with ice, like you would.  Pour in glass.  Drink.  Think about how it would be much better without the grenadine.
SOME OF JHONEN'S OFFICIAL INTERNET LOCALES
http://www.questionsleep.com
http://jhonenv.tumblr.com
https://twitter.com/jhonenv
AND SOME OF VASQUEZERY ON AMAZON

AND DON'T FORGET THE "ROBOT OR NOT" PODCAST
https://www.theincomparable.com/robot/