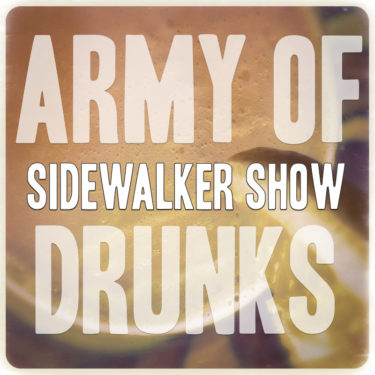 THE SIDEWALKER SHOW
with Adrian Roberts
Transperson and Founder of Bootie Mashup
"Ask a Drunk Transgender!" Just in time for President Donny's big ban on transpeople in the military for no reason, we sit down with Adrian Roberts, one of the first people in the US to officially register as gender non-binary.  (She was number 14.  Not bad.)
Hear Adrian give the inside word on gender transition, fluidity, liking both boys' and girls' toys, and the joys of German beer.   Yes, our cocktail is a hefeweizen-based beer concoction with vinegar and lemon juice called the Sidewalker.  Shockingly, it's damn delicious, and not at all a bad revenge plot by the Bavarians.
Also: Do you know the difference between Bananenheizen and Scheissehosen??
You had better, my friend.  You had better.
Subscribe on iTunes!
Subscribe on Stitcher!
Tip Us on Patreon!
Or Listen Directly Here! 
DRINK ALONG AT HOME!
The Sidewalker
We'll be dead honest, we got this one from a little site called Crafts on Draft, who claim it came from bartender Damon Boelte at Prime Meats restaurant in Brooklyn.    We're quoting verbatim here, mostly because we're lazy.
Ingredients: (Makes one cocktail)
1 ounce apple brandy (such as Laird's)
¾ ounce lemon juice
½ ounce maple syrup
¼ ounce apple cider vinegar
hefeweizen
Lemon wedge, to garnish
Preperation
Pour the brandy, lemon juice, maple syrup and vinegar into a cocktail shaker. Add ice and shake. Strain the cocktail into a chilled, tall glass and top with beer. Garnish with a lemon wedge.
OUR DRUNKEN GUESTS!
Adrian Roberts is one of the founders of Bootie Mashup, one of the best sources for dance mash-ups and mash-up themed dance parties in the country.  Go check it out for free music downloads, club dates, and general bootiliciousness.
ACTUAL CONVERSATION BETWEEN BUCK AND SHAFT ABOUT THIS DRINK
When we first heard about the Sidewalker, we were… OK, we were afraid.  We were flat-out scared of what a cocktail with beer and vinegar would do to our souls.
So as promised,  so here is the text conversation between Buck and Shaft in all of it's incredulous glory.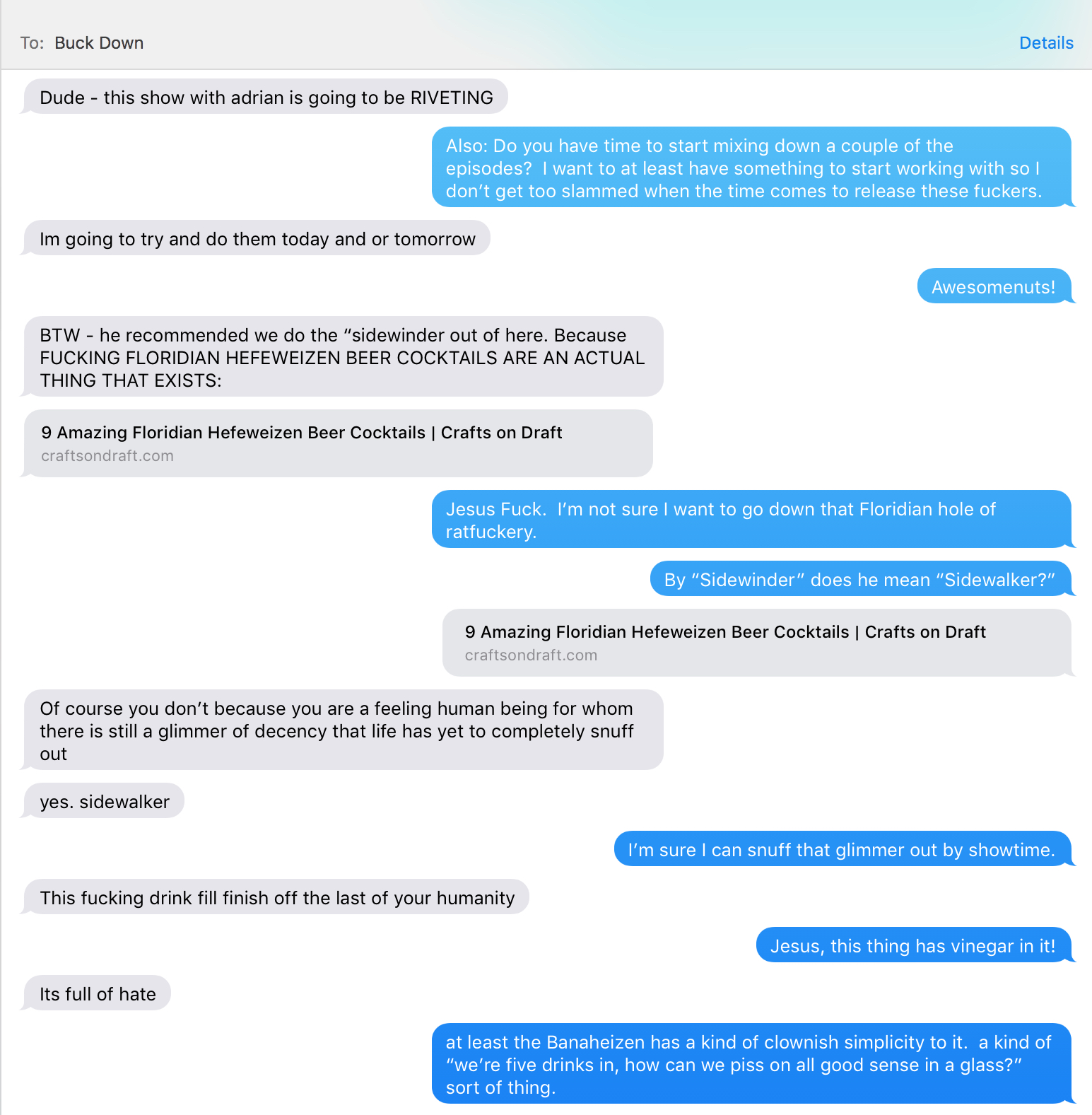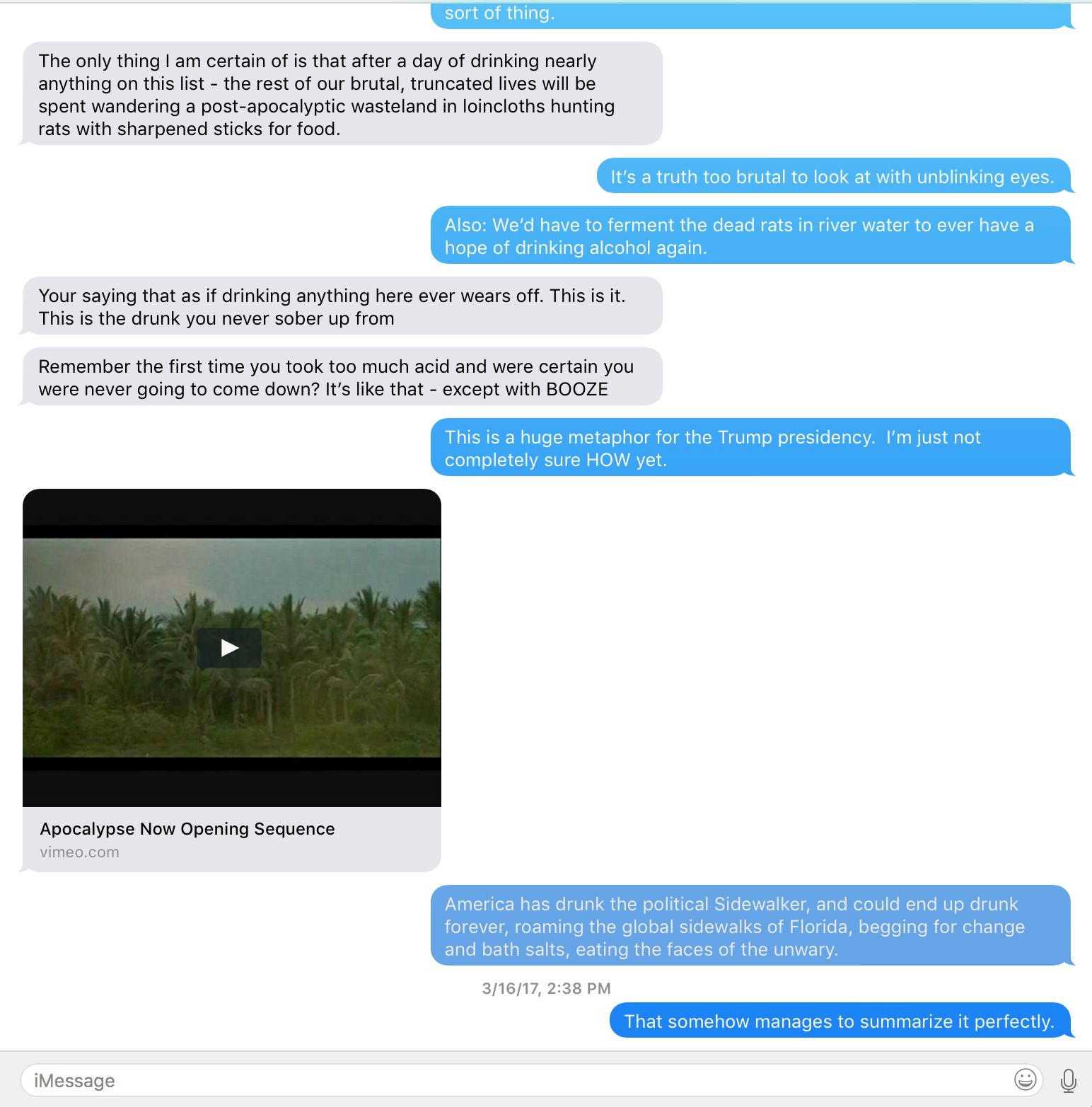 Finally, here's our show slug again, so social media doesn't attach that conversation to any shared post, because apparently that's how this bullshit works.