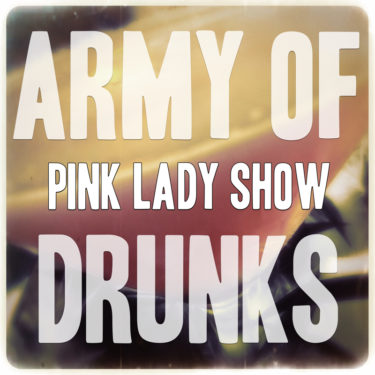 THE PINK LADY SHOW
with "Alex X"
Anime/Sci-Fi Convention Organizer
"I've seen so much Gadget porn, you don't even know."
Nothing is bigger than comic "cons" right now.  Literally nothing!  Not the sun.  Not the expanding cluster of galaxies billions of light years across that contains the Milky Way.  NOTHING!
Join us as we take a peek behind the scenes of these amazing nerdapalloozas with "Alex X," a semi-anonymous convention organizer who's worked in cons for years.  Find out way more than you wanted to know about the big egos of B-celebrities, secret nerd* orgies, and what drives the mind of a Furry.  (Don't be afraid.)
We also take a dive into the Pink Lady, the most unfairly-maligned "girlie drink" of the last century.  It's shockingly delicious, and not cloying at all when you do it right.  (Entirely unlike "Pink Lady and Jeff," the disturbing variety show from the late 70s.)
*And we mean the word with the most respect we can muster.  We're all nerds here.
Subscribe on iTunes!
Subscribe on Stitcher!
Tip Us on Patreon!
Or Listen Directly Here!
DRINK ALONG AT HOME!
MixMa$ter Therm's Optimal Pink Lady Recipe
There are two commonly-found versions of the Pink Lady, one is a more modern version with cream, ours is based on the classic version.  Honestly, we think it's better.  You trust us, don't you?
1.5 oz Gin
.5 oz Apple Jack
.5 oz Lemon juice
2.5 tbs Egg white (or one egg white from a single egg)
2 tsp Grenadine.  (4 dashes)
Cherry for garnishing purposes.
Combine all ingredients in a cocktail shaker and shake with ice.  For a drink like this, it's worth it to get some high-end grenadine.  Seriously, don't use the cheap stuff if you can avoid it.  Pour into a cocktail glass and garnish with a cherry.  (In this case, a maraschino is completely acceptable, but there's no reason to hold back the Luxardos if you have them.)  Enjoy, while feeling gender-neutral!
And if you want to learn more about Grenadine, join our Patreon campaign for access to our Back Room of bonus material.
GRENADINE FOR SALE!  (a tiny fraction of your purchase will go to the Army production fund.)
WANT TO KNOW MORE ABOUT FURRIES?

FINALLY, SOME PINK LADY AND JEFF!
Prepare to feel deeply uncomfortable.