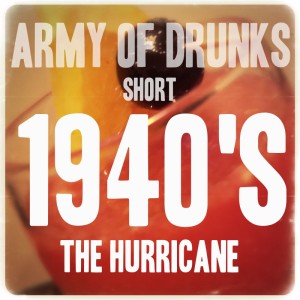 Short: 1940s – The Hurricane
with Katie Massa and Jason Berlin
"Drink-a-Decade" pulls into your harbor with the cocktail that was given away free to sailors!
It's the Hurricane!  Drink yourself back to WWII-era New Orleans, when scotch was rare, and rum was flowing like seamen on shore-leave.  Discover the fruity-as-fuck concoction that made drinking in the streets famous.  We also discuss the New Jersey marschino cherrijuana bust.  And Katie Massa vomits into Jason Berlin's mouth like a momma bird*  (NSFW as always.)
*Katie Massa does not vomit into anyone's mouth.
Subsribe on iTunes!
https://itunes.apple.com/us/podcast/the-army-of-drunks/id936560275
Or listen directly here!
http://traffic.libsyn.com/armyofdrunks/AOD_1940s_Hurricane_Show.mp3
DRINK ALONG AT HOME!
The Hurricane Cocktail – The Army of Drunks version
Let's start by saying there doesn't seem to be any agreement on how this cocktail is made. Some recipes use passion fruit juice, others insist on passion fruit syrup (good luck finding that at your local Walmart).  We started with the following recipe, but found that it was too damn sweet.  MixMa$ter Therm modified it to exclude the simple syrup, and that's what we settled on before we passed out.  It's a good-enough system for determining success.
2oz light rum
2oz dark tum
2oz passion fruit juice
1 oz orange juice
Juice of half a lime
1 tsp simple syrup (though we like it better without it.)
1 tsp grenadine
Orange slice and cherry for garnish
Ice
As usual, pour every last liquid thing in a cocktail shaker with ice and shake it like you mean it.  Pour into a hurricane glass over ice.  You do have a hurricane glass, don't you?
NEED A HURRICANE GLASS?

MIXMA$TER THERM DRESSES FOR AUDIO!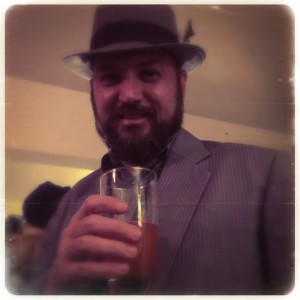 Semi-authentic 40's garb!