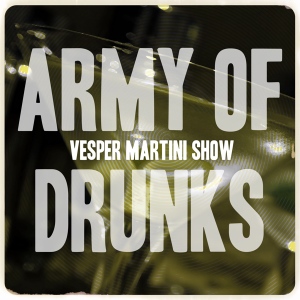 VESPER MARTINI SHOW
with Cece Pleasants
Screw that fragile mama's-boy Daniel Craig!*  The drunks get loaded the original James Bond martini — the Vesper — made up by novelist Ian Fleming himself, and promise not to make a single lame-ass "shaken" or "stirred" joke.  Then we talk with late-night comedy writer and comedienne Cece Pleasants about what it's like to get cancelled, why some female comics turn gay, and the power of Arsenio's finger.  (NSFW, as always.)
*Daniel Craig could easily kick our collective ass, and we have nothing but respect for him and his body of work.  He is also a great James Bond.
Subscribe on iTunes!
https://itunes.apple.com/us/podcast/the-army-of-drunks/id936560275
Or listen here!
http://armyofdrunks.libsyn.com/the-vesper-martini-show
DRINK ALONG AT HOME
The Vesper Martini
3 measures of gin (Fleming specified Gordon's)

1 measure of vodka

1/2 measure Lillet

Lemon peel for garnish
Measure all of the ingredients into a cocktail shaker with some ice and shake.   Do not stir.  (Anyone who insists that the only way to properly make a martini is by stirring it is an asshole and should be ignored.)  Rinse a martini glass — or champagne goblet, as the novel specifies — with Lillet before pouring the drink and garnishing with lemon peel.  Then imbibe, shoot nefarious henchman, dispense obvious witticism, bed impossible female.
IAN FLEMING'S EXACT DESCRIPTION
(from the novel Casino Royale)
"A dry martini," [Bond] said. "One. In a deep champagne goblet."
"Oui, monsieur."
"Just a moment. Three measures of Gordon's, one of vodka, half a measure of Kina Lillet. Shake it very well until it's ice-cold, then add a large thin slice of lemon peel. Got it?"
"Certainly, monsieur." The barman seemed pleased with the idea.
"Gosh, that's certainly a drink," said Leiter.
Bond laughed. "When I'm…er…concentrating," he explained, "I never have more than one drink before dinner. But I do like that one to be large and very strong and very cold and very well-made. I hate small portions of anything, particularly when they taste bad. This drink's my own invention. I'm going to patent it when I can think of a good name."
—Ian Fleming, Casino Royale, Chapter 7, "Rouge et Noir'