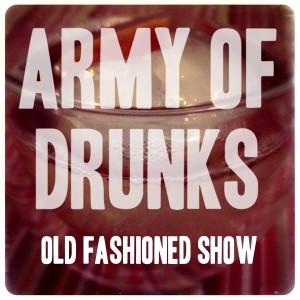 OLD FASHIONED SHOW
With Johnny Amerika
Meet mad genius Johnny Amerika who builds the sort of machines you only come up with when you're drunk as the Army of Drunks get ice-balls deep in the (Whisky) Old Fashioned cocktail, a drink older than anyone alive today.  We also hear news from the drunken hamlet of River Falls, learn the story of a real-live Killdozer, and drink seven-week-old eggnog without dying.
Subsribe on iTunes!
https://itunes.apple.com/us/podcast/the-army-of-drunks/id936560275
Or listen directly here!
http://armyofdrunks.libsyn.com/the-old-fashioned-show
DRINK ALONG AT HOME!
The Whiskey Old-Fashioned
2 oz. bourbon or rye.  (Or a mix.  We used three parts bourbon to one part rye.)
1 sugar cube.  (Or 1/2 oz simple syrup.)
Angostura bitters
Orange slice and/or peel
One non-marchino cherry (optional)
Put a sugar cube in a glass and soak it down with bitters.  (And add a little water if that's how you roll.)  Muddle it.  Pour in the booze.  Add a slice of orange or orange peel, and a cherry.  DO NOT MUDDLE THE FRUIT, DAMN IT!  Serve like you mean it.
MixMa$ter Therm gazes with dread upon the seven-week old eggnog.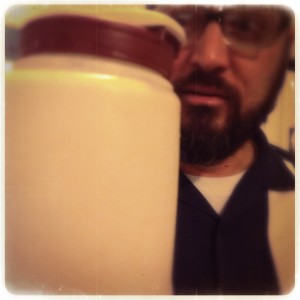 Here's Johnny's  trebuchet commercial.
https://www.youtube.com/watch?v=PZbG9i1oGPA
And the story of Marvin Heemeyer.
http://en.wikipedia.org/wiki/Marvin_Heemeyer