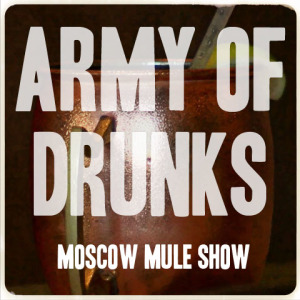 THE ARMY OF DRUNKS
MOSCOW MULE SHOW
With guests character actors Richard  Horvitz and Rikki Simons.
Dismember your childhoold as cartoon voice actors Richard Horvitz and Rikki Simons — from Nickeldoeon's "Invader ZIM" — get loaded on the Moscow Mule.  Learn the history of a cocktail created in secret by a beverage cabal.  Hear True Tales of Convention Horror.  Then play "Name that Sex Act" with TV's GIR!  (NSFW, obviously.)
Subscribe on iTunes!
https://itunes.apple.com/us/podcast/the-army-of-drunks/id936560275
Or listen here!

DRINK ALONG AT HOME!
THE MOSCOW MULE
1/2 ounce 

lime juice

2 ounces 

vodka

4 to 6 ounces ginger beer (not ginger ale, you child.)
Ice (obviously)
Glass Type:  Copper mug, if you're that kind of completist.  Collins glass, otherwise.
PREPARATION
Squeeze lime juice into a copper mug* and toss in the spent lime if you're feeling badass.  Add ice cubes, then vodka and fill the remainder with ginger beer.  Stir with an appropriate object and serve with an icy stare.
* If you don't have a genuine copper Moscow Mule mug, just throw a few pennies into a regular glass** for "that ol' copper tongue."
** This is a terrible idea, and we don't recommend you do it, ever.   But hey, drop us an e-mail if you do.
OUR VALUED GUESTS:
http://www.rikkisimons.com/
http://www.richardhorvitz.com/