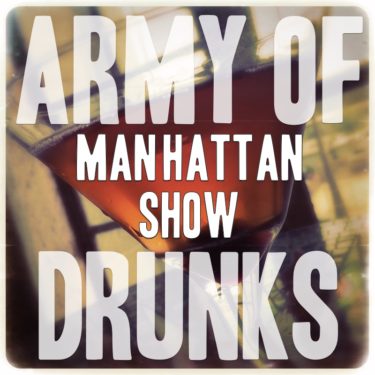 THE MANHATTAN SHOW
with Scientist Ian McEwan
It's Season Three, you drunken bastards!  Put on your Celebratin' Pants and get your Manhattan on as we play "Ask a Drunk Scientist" again with our good friend Ian McEwan.  Ian tackles the big questions about robot uprisings, those new planets we can't get to, and how you can or cannot cross the galaxy in one lifetime.
We also get under the history of the Manhattan cocktail — a drink as illustrious as the city itself — and we don't shy away from the tough philosophical question:  Dry or sweet?  Bourbon or rye?  What kind of vermouth?  Wait, there are different kinds of vermouth?
Yes, my child, yes there are.
Subscribe on iTunes!
Subscribe on Stitcher!
Tip Us on Patreon!
Or Listen Directly Here! 

DRINK ALONG AT HOME!
The Manhattan
(The MixMa$ter Therm "Perfect" Version)
3 oz Rye Whiskey
1 oz Dry Vermouth
1/2 oz Sweet Vermouth
6 Dashes of Angostura Bitters
The Manhattan is a drink that's mostly as good as the base ingredients, so don't chintz out on the whiskey if you can avoid it.  Some people swear that rye is the only proper whiskey for a Manhattan.  We trust these people, more or less, so go with rye and see how you like it.  David Wondrich also says higher proof whiskies make for better Manhattans than their lower-proof cousins.  We definitely trust David Wondrich.  You should also put some effort into the vermouth, but remember, open vermouth bottles go bad in a few days if you don't refrigerate them, so pick up a half-bottle if you can.
As you'd expect, put all of the ingredients in a cocktail shaker with ice.  Traditionally, you stir the drink it with a cocktail stirrer.  Some say shaking adds foam, which you don't want.  Others say if you've got foam, you're using bad ingredients, and besides, shaking is cool.  Best to just go with the stirrer to avoid arguments.
Also traditionally, you should ideally chill the glass for half an hour in the freezer before serving.  Most people don't really want to plan that far ahead, so just fill the glass with ice cubes and cold water while you're mixing, then dump that out before you pour the drink.
Garnish with a Luxardo cherry.  Use of a maraschino is a crime punishable by forced exile from the Cocktail Kingdom.  Seriously, if you've got no Luxardos, use a lemon peel.
MANHATTAN VARIANTS
Unsurprisingly, there are as many variants of the Manhattans as there are similes to describe the number of variants of the Manhattan.  Some of them are:
SWEET MANHATTAN: Bourbon and sweet vermouth.
DRY MANHATTAN: Rye and dry vermouth.
"PERFECT" MANHATTAN: Rye and 1/2 dry and 1/2 sweet vermouth.
METROPOLITAN: Use Brandy instead of whiskey.
CUBAN MANHATTAN: The "Perfect" recipe, but substituting dark rum.
THE PLACE FOR SOME LINKS THAT WE'LL PROBABLY ADD TO AS PEOPLE ASK US TO ELABORATE ON STUFF
Here's an article on that Faster-Than-Light Drive we were talking about.
And the NASA article on all those new planets!