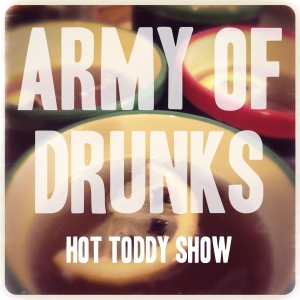 THE HOT TODDY CHRISTMAS EVE  SPECIAL
with Everybody Get In Here
Don't spend Christmas Eve drinking sad and alone!  Spend it drinking sad and alone with the Army of Drunks!  Join musical guest improv comedy band Everybody Get In Here as we learn the history of the Hot Toddy, the drink King George the First called "laxative."  We also learn about Spork's trip to a Russian Christmas Gun Party, devise cocktails based on 2014's biggest assholes, and find out what's in Shaw's Christmas Craw on our slightly-longer Christmas Eve special.
Subscribe on iTunes!
https://itunes.apple.com/us/podcast/the-army-of-drunks/id936560275
Or listen directly here:
EVERYBODY GET IN HERE ON FACEBOOK
https://www.facebook.com/EverybodyGetInHere
DRINK ALONG AT HOME!
The Army of Drunks Hot Toddy
1  1/2 oz  bourbon
1 tablespoon honey
lemon
1/4 cup boiling-hot water
Cinnamon stick
Clove studs
Pour bourbon and honey into a mug.  Slice up lemon, because it's useless to you whole.  Add a slice of lemon to your water and boil it in whatever way makes you feel safe.  Take another slice and stud it with cloves for no other reason than it looks cool.  Pour boiling water into mug with honey-booze mixture.  Add cinnamon stick and clove-studded lemon slice.  Drink until you feel good about Christmas.