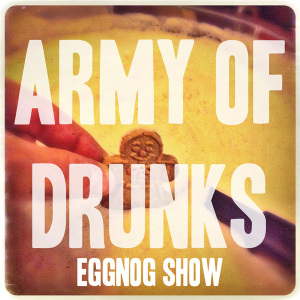 THE ARMY OF DRUNKS
EGGNOG SHOW
with Derek Jones
Learn about the history of Christmas' biggest egg-and-dairy-based alcoholic tradition, and why some folks like to leave their nog out before they get their nog on.  Comedian Derek Jones tells us about Los Angeles' biggest Ugly Sweater Party, and how a Moose takes a mistress.  Also, we play "Name That Sex Act" holiday edition, and find out What's in Shaw's Craw!
Subscribe on iTunes!
https://itunes.apple.com/us/podcast/the-army-of-drunks/id936560275
Or listen direct here:

FOLLOW DEREK JONES ON TWITTER
https://twitter.com/tooderek
DEREK'S UGLY SWEATER PARTY
https://www.facebook.com/EastCoastFamilyChristmas
DRINK ALONG AT HOME!
THE ARMY OF DRUNKS EGGNOG TROUGH
(A recipe bastardized from Alton Brown and Martha Stewart.)
NOTE: This recipe can be cut in half, or a third, if you just don't have enough friends to consume it all, and if you're a fan of our podcast, you probably don't.
12 egg yolks
1 cup, plus 3 tablespoons sugar
1 & 1/2 quarts whole milk
3 cups heavy cream
1 tablespoon freshly grated nutmeg
12 egg whites (to save for servin' time)
1 cup bourbon
1/2 cup dark rum
1/2 cup brandy or congnac
DIRECTIONS
In the bowl of a stand mixer, beat the egg yolks until they lighten in color.  Gradually add the 1/3 cup sugar and continue to beat until it is completely dissolved.  Add the milk, cream, booze and nutmeg and stir to combine.  Then let age for six months if you have time, maybe overnight if you don't.
When it comes time to serve the glorious nog, place the egg whites in the bowl of a stand mixer and beat to soft peaks.  With the mixer still running gradually add the 1 tablespoon of sugar and beat until stiff peaks form. Whisk the egg whites into the mixture.  Chill and serve.  (Though you should have chilled it *way* before now.  If you aged your eggnog by leaving it by the fireplace, start over.)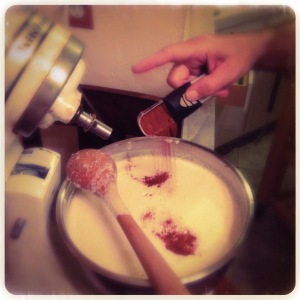 Nuts being megged by MixMa$ter Therm.

GEORGE WASHINGTON'S EGGNOG RECIPE
"One quart cream, one quart milk, one dozen tablespoons sugar, one pint brandy, 1/2 pint rye whiskey, 1/2 pint Jamaica rum, 1/4 pint sherry—mix liquor first, then separate yolks and whites of eggs, add sugar to beaten yolks, mix well. Add milk and cream, slowly beating. Beat whites of eggs until stiff and fold slowly into mixture. Let set in cool place for several days. Taste frequently."  Historians believe he used a dozen eggs.  Why?  Because freedom.
PHOTOGRAPHIC EVIDENCE OF INJURED POLISH SANTA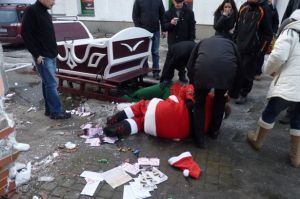 OUR SHAMEFUL EGGNOG CONSUMPTION
Before: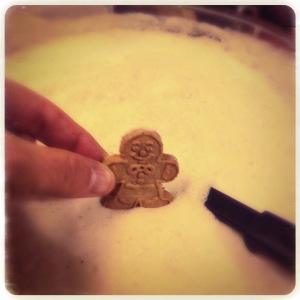 After: