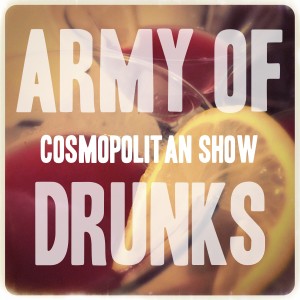 THE COSMOPOLITAN SHOW
With Jackie Monahan
and Special Guest-Spork Katie Massa
In honor of both Valentine's Day and Lincoln's Birthday, we investigate the Cosmopolitan cocktail, the drink made famous as the biggest "girlie" drink of the last decade.  But is it more "gay" than "girlie?"  And does that even matter to an evolved drunk such as yourself?   We also sit down with comedienne Jackie Monahan, who tells us what it's like to be a "lesbian comedian" who starts dating a guy.  Plus, guest Spork Katie Massa, pantsless booze news, and Shaw has the conch!*  (Very NSFW, very LGBT-friendly!)
Subsribe on iTunes!
https://itunes.apple.com/us/podcast/the-army-of-drunks/id936560275
Or listen directly here!
http://traffic.libsyn.com/armyofdrunks/AOD_Cosmopolitan_Show_1-2.mp3
DRINK ALONG AT HOME!
The Cosmopolitan Cocktail
1 1/2  oz

 

vodka (or vodka citron, or your own citrus- infused vodka if you're MixMa$ter Therm)

1/2 oz

 

Rose's® lime juice (or fresh-squeezed lime juice if you're MixMa$ter Therm)

1/2 oz

 

cranberry juice (or unfiltered cranberry juice plus simple syrup if you're MixMa$ter Therm)

1/2 oz

 triple sec (or Contreau if you're MixMa$ter Therm, or you weren't raised behind a free clinic)
Put all ingredients in a shaker.  Shake like you mean it.  Pour into a martini glass.  Garnish with lemon slice or orange slice.  Pretend "Sex in the City" is still on the air.
CHECK OUT JACKIE'S SITE
http://www.jackiemonahan.com

AND WATCH JACKIE'S MOVIES ON AMAZON VIDEO

AND CHECK OUT KATIE MASSA'S SITE
http://www.katiemassa.com
AND BECAUSE YOU NEVER KNOW WHEN YOU MIGHT NEED IT
http://www.hsfreeclinic.org
*Who got the Lord of the Flies reference?  Anyone?  Your junior high english teacher would be proud.