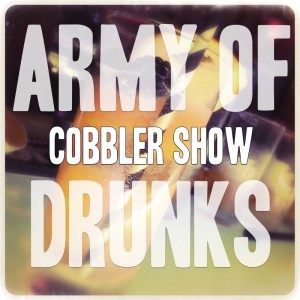 THE COBBLER SHOW
With James Slay
Actual Goddamn Bartender
We should have done this a long time ago. This week the Army of Drunks sits down with an actual goddamn bartender to hear what life is like behind the counter.   Warning: it can suck to be on the other side of you when you're ordering a drink.
While we hear war stories from behind the bar, we investigate the Cobbler, the first American cocktail to take the world by storm in the 18th century, thanks two the combination of sherry, ice and — believe it or goddamn not — the invention of the straw.  Listen as we get old-tymie loaded on both the original Sherry Cobbler, which liked you'd expect is made with sherry, and the D Cobbler, which upgrades to whiskey and ginger ale.  (NSFW as always.)
Subscribe on iTunes here!
Or Listen Directly here!

During the show, James educates us on William Schmidt, one of the first cocktail book authors in America.  In fact, here he is!  Look into his steely, whiskey-burned gaze as you think about what booze awaits you.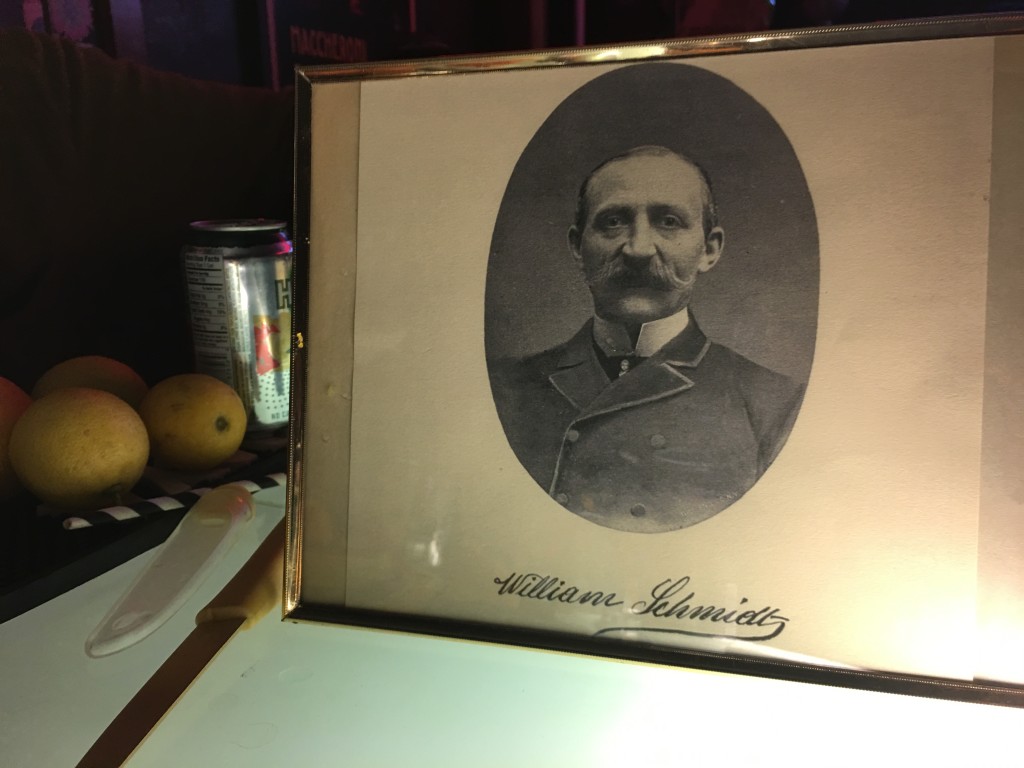 Remember, William is an innocent, but his mustache stands in judgement of you and all you've done… or failed to do… in this life.
DRINK ALONG AT HOME!
The Narragansett Cobbler
Whole Peel of Orange
Juice of one Orange
One "jigger" whiskey (we used Canadian whiskey)
One Bottle of Ginger Ale (though you won't need the whole thing)
Cracked Ice
Berries to Garnish this Sucker
A Paper Straw (if you're going to be traditional about it)
If you're going to be a badass like MixMa$ter Therm, start by taking off the entire peel of one orange in one piece.  Good luck with that.  Put the peel artfully spiraled in a collins glass.  Add the juice of the orange, a jigger of whiskey, fill the rest with ice, and top off with ginger ale.  Then garnish it with berries, because it makes you look all-Martha-Stewart 'n' shit.  (And really, it makes the drink look gorgeous.) Drink through a straw, a paper one if you're going to be historically accurate.
AND AS LONG AS YOU'RE SIPPING HISTORY, ALSO TRY…
The Sherry Cobbler
4 oz. Dry Sherry (everyone says go for amantillado)
1/2 tsp simple syrup or 1 tbs sugar
2 or 3 Orange Slices
Cracked Ice
Berries and/or Mint to Garnish it to Glory
A Goddamn Paper Straw
Muddle the orange slices and the sugar/syrup in a mixing glass.  Add the sherry and ice, then shake like a bucking mule.  Strain into a collins glass over more cracked ice.  Garnish that sucker with berries and a paper straw.  Pretend you're in The Music Man.