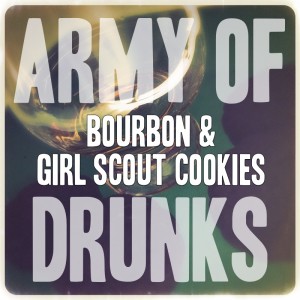 THE BOURBON & GIRL SCOUT COOKIES SHOW
With Linda Williamson
Writer for L.A. Weekly, L.A. Times & L.A. Magazine
NSFW. NSFW! Oh, and NSFW!!
We thought this would be a good idea.  We had no idea it would end the way it did.
Bourbon and Girl Scout cookies.  Who would think to pair them? Well, everyone after that little article from the Bourbon Review website went viral.  The difference between us and your questionable friends who posted it on Facebook is that we actually tried it!   We soon discovered half the bourbons the article recommended were either impossible to find or astronomically priced, so we made a few substitutions of our own to make the boozy picnic possible.  Then we invited writer Linda Williamson — author of the L.A. Weekly article "Girl Scout Cookies: Sugar, God & Questionable Math Skills" — to bring her own unique opinions about Thin Mints.
That part went all right.  Delightful, even.  It was what came late that we have to apologize for.  We are very, very sorry for how the show wound up, and we promise to never, ever do it again. Really. (NSFW as always.)
Subsribe on iTunes here!
Or listen directly here!

READ THE ORIGINAL ARTICLE IN THE BOURBON REVIEW. 
http://www.gobourbon.com/bourbon-girl-scout-cookie-pairings/
AND HERE'S LINDA'S L.A. WEEKLY STORY "GIRL SCOUT COOKIES: SUGAR, GOD & QUESTIONABLE MATH SKILLS"
http://www.laweekly.com/restaurants/girl-scout-cookies-sugar-god-questionable-math-skills-2897127
DRINK ALONG AT HOME!
Here are the bourbon & cookie pairings we tried:
Thin Mints & Basil Hayden's
Peanut Butter Sandwiches* & Johnny Drum by Willet
Shortbreads & Maker's 46**
Samoas / Carmel Delites & Russel's Reserve***
* This is supposed to be paired with Peanut Butter Patties, not sandwiches, but our Girl Scout screwed up. Honestly, it would have worked much better with the proper cookie.  We blame ourselves, but only because it looks bad to blame Girl Scouts for anything.
** The Bourbon Review recommended Pappy Van Winkle's Family Reserve 20-Year Old for this pairing.  Simply clicking that link will explain why we didn't use it.  (Yeah, it must be great being a bourbon review site and getting $2,500 bottles of out-of-circulation whiskey for free.)  We substitued the Maker's 46 because of its oaky flavor.
*** The Bourbon Review paired this with Angel's Envy Rye.  It's rare, and the local liquor store was asking about $200 for a bottle of it.   We substituted Russel's Reserve for its sweet overtones.  It's a durn fine bourbon for the price.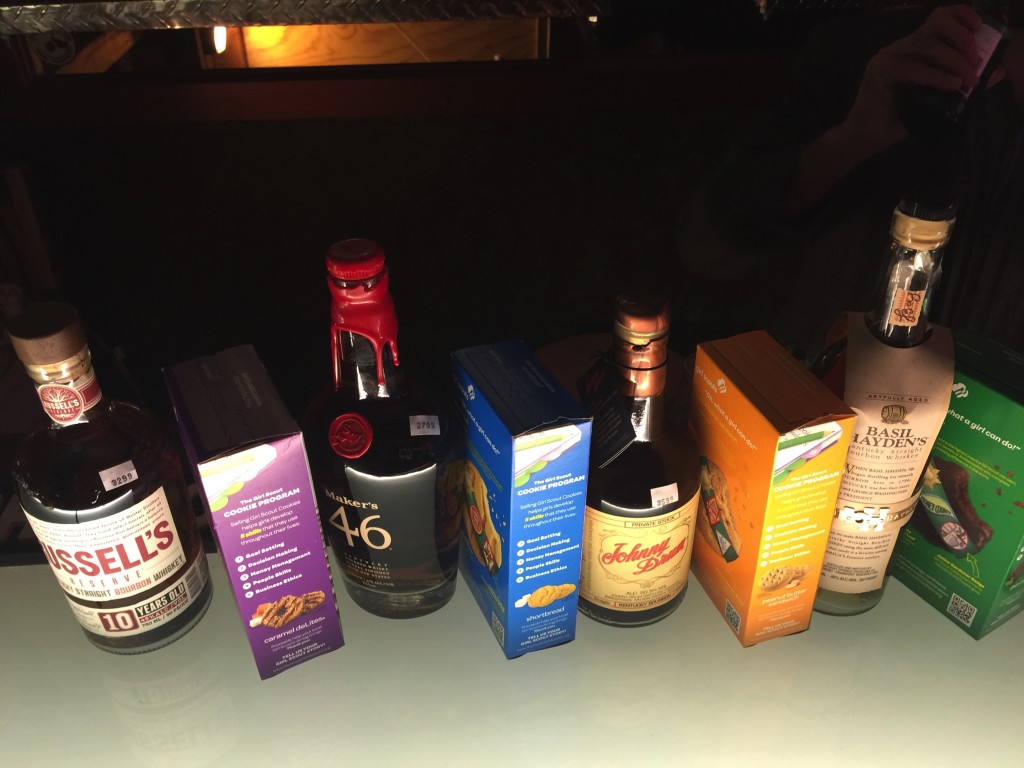 SO, WHAT DID WE LEARN?
All of the pairings were interesting, some were a little more desserty than others, but the biggest straight-up home-run was Russel's Reserve and Samoas.  We'd recommend that to you or any Girl Scout who grew up and got sassy.  Shortbreads and Maker's 46 also made a nice combination for someone who's feeling more refined about their booze-and-cookie habit.
We also discovered that dunking Thin Mints in Maker's 46 is embarrassingly delicious.  The mint puts you in the mind of the bourbon and mint combination of a mint julep, and the chocolate cools out the heat of the Maker's, while reminding you that you're a goddamn grown-up drinking expensive bourbon with a six-year-old's favorite milk-time treat.  What the hell is wrong with you?  Don't let any serious bourbon aficionado catch you doing it.  (Though, really, you can't run your life by what aficionados think.  Seriously, are you gonna let an aficionado push you around?)