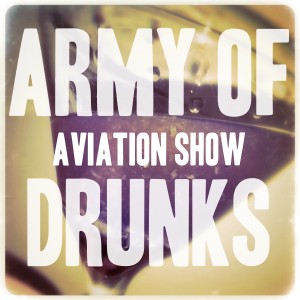 THE AVIATION SHOW
With Rico Gagliano
Does gin make a man mean?  Find out as we join public radio host Rico Gagliano of The Dinner Party Download and discover the Aviation Cocktail, a drink so smooth, yet so incendiary.  Also, we discuss the worst interviewee in rock and roll, Spork's Magic 8-Ball trip, and why cake pops can fuck off.   Also, Eric says some embarrassing things about the Serial podcast.  (Sorry, Sarah Koenig.  Nothing but respect.) (NSFW as always.)
Subsribe on iTunes!
https://itunes.apple.com/us/podcast/the-army-of-drunks/id936560275
Or listen directly here!
http://armyofdrunks.libsyn.com/the-aviation-show
DRINK ALONG AT HOME!
The Aviation Cocktail
2 oz Gin

.5 oz Maraschino liqueur

.5 oz Crème de violette or Crème Yvette

.5 oz Lemon juice

Luxardo Cherry if you have any style at all
Put all the ingredients in a cocktail shaker and shake like you mean it.  Pour into a martini glass and garnish with a Luxardo cherry.  (Points off for using the maraschino.)  Adjust the lemon juice to taste.
Here's a link to the Dinner Party Download Official Site!
http://www.dinnerpartydownload.org
Also, the old Ministry of Unknown Science comedy pilot!
https://www.youtube.com/watch?v=TatpKziUH2o
Hey!  Get clean with our new sponsor Outlaw Soap!

And Cake Pops can Fuck Off!

Finally, thanks to Evan Dorkin's "Milk and Cheese" comic for the phrase "Gin makes a man mean."