Ladies and gentlemen, our first episode is now officially launched!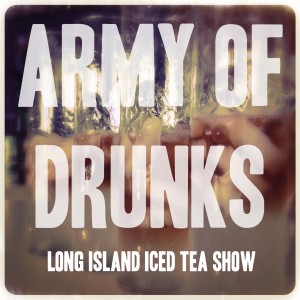 THE ARMY OF DRUNKS
Long Island Iced Tea Show
with guests Mike O'Connell and Moshe Kasher
Join the Army of Drunks as we get into the history of the most shamefully boozy cocktails of either the 1970's or the Prohibition era, depending on who you believe. Guest comedians Mike O'Connell and Moshe Kasher discuss the art of stand-up comedy, and play "Drunk Comic vs. Sober Comic."
Click on the player below!
(That hopefully loads right, or we're gonna kill Libsyn.)
Or subscribe via this feed here!
https://itunes.apple.com/us/podcast/the-army-of-drunks/id936560275
Your privacy will be respected.  You will receive no unwanted e-mails.  Your nude photos will not be leaked.
DRINK ALONG AT HOME!
THE LONG ISLAND ICED TEA
1.5 cl Tequila
1.5 cl Vodka
1.5 cl White rum
1.5 cl Triple sec
1.5 cl Gin
2.5 cl Lemon juice
3.0 cl Gomme Syrup
1 dash of Cola
PREPARATION
Add all ingredients into highball glass filled with ice. Stir gently. Garnish with lemon spiral. Serve with straw.  Consume with shame.
Pick up Moshe Kasher's Book and Mike O'Connell's albums on Amazon: