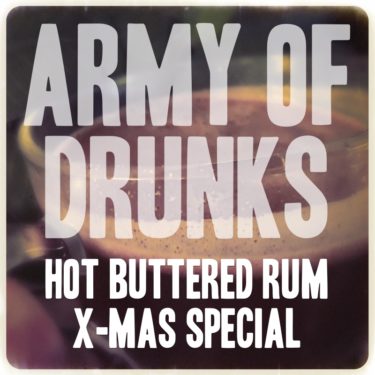 HOT BUTTERED RUM CHRISTMAS SPECIAL 2017
with Rico Gagliano of The Dinner Party Download
and Andy Hermann, former music editor of the LA Weekly
"The Worst of 2017!"
Let's face it, it's been a shitty year.  Mass shootings.  Government lootings.  Putin still pooting.  Trump still doing crazed lying narcissist things that don't rhyme with "ooting."  (Though we maybe could have stretched it to involve "#metoo-ing.")
And if you live in L.A., you got to suffer sale of our longest-running independent newspaper to a bunch of douchebag lawyers from Orange County who fired the whole staff, then put out ads asking ,"Hey, who wants to work for free?"
What can make these holiday horror cookies go down easier?  HOT BUTTERED RUM, of course!  And we'll tell you its damn not-that-storied history while we get loaded on it.
We also get the inside story of how the ugliness at the LA Weekly went down direct from Andy Hermann.  Then we talk to former Dinner Party Download host Rico Gagliano about what it's like to wrap-up a ten-year-old podcast without a single sexual harassment scandal.
Oh, and we all die on the side of a mountain.  TRUE!
Subscribe on iTunes!
Subscribe on Stitcher!
Tip Us on Patreon!
Or Listen Directly Here!
DRINK ALONG AT HOME!
Hot Buttered Rum
Usually we translate MixMa$ter Therm's Beautiful Mind-style cocktail notes into something we all can understand, but in this case he's spelled the whole process out for the ape-like laymen we are.  Here are his notes, verbatim.
Hot Buttered Rum:

2 TBSP batter (below)
2 oz dark rum
4 oz boiling water

Put batter in bottom of mug or glass.  Pour in half of the boiling water and stir to incorporate batter.  Add rum and rest of water.

– Alt method – Put water and rum in glass, then top with batter.  (we can try both during the show, if I don't get to trying them both first and picking a winner)

HBR Batter – Classic:

1 stick (4 oz) butter*, room temperature
8oz brown sugar
1 1/2 TBSP Pumpkin Pie Spice (store-bought, or make your own)

Cream butter and sugar together**.  Add and mix-in spices.  Store in refrigerator.

HBR Batter – Therm special Edition:

As above, plus 1 tsp vanilla extract and 2 TBSP browned butter (cool before adding).

Notes:
*butter – It's a key ingredient in your drink, and it's a special occasion; go ahead and splurge on a decent one!
**Creaming butter and sugar – basically, put them in a mixer (butter first, add sugar a bit at a time) until it's well combined and a bit fluffy.  Look it up on the Internet if you're unsure.

Have fun with the spices.  This is your opportunity to create your own, signature mix

Some recipes use spiced rum.  I think this shows a lack of faith in your batter.  If you don't think the final result is flavorful enough, improve your batter.

Basic spice mix for this amount:
1/4 tsp ground cloves
1/4 tsp fresh-grated nutmeg
1/4 tsp ground allspice
1/4 tsp ground ginger
1/2 tsp ground cinnamon
OUR DRUNKEN GUESTS
First of all, if you're curious about the state of the LA Weekly, read this lovely little article from the Columbia Journalism Review, "Just sell the paper and go home."
Next, if you want to buy Rico Gagliano's revolutionary new book BRUNCH IS HEL, do it here and the Army of Drunks will get a tiny, tiny kickback from amazon.  And yes, he makes a compelling argument why this social ritual we call "brunch" really is a howling abomination.
Andy Hermann has been busy doing music reporting for NPR.
But he was kind enough to make a BEST ALBUMS OF 2017 list for all his friends.  We're reprinting it here without his permission.  Because that's the kind of people we are.
ANDY HERMANN'S TEN BEST ALBUMS OF 2017
And no, we will not provide a link to Marshmallo, unless we're compelled to by his lawyers.  (Listen to the show if you don't get the reference, okay?)
As always, all Army of Drunks shows are copyright ©2017 Army of Drunks.