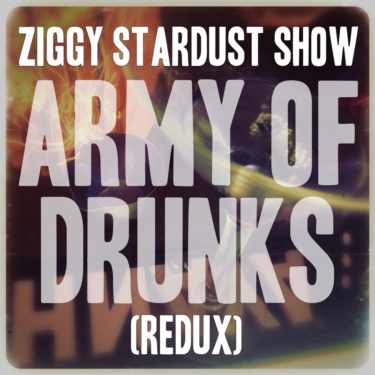 THE ZIGGY STARDUST SHOW
With Andy Hermann
Music editor for the Los Angeles Weekly
It's August, and since everyone in Southern California fucks off to pastures new, we're re-running one of our favorite shows.
In celebration of the groundbreaking alien rock star, the Drunks present a tribute show with L.A Weekly music editor Andy Hermann while drinking the Ziggy Stardust, a drink as complex as Bowie himself.  (And the first Army of Drunks cocktail that could actually burn the place down.)
WARNING: We get loaded, pretentious, and all-kinds-of-serious about Bowie and his music, but we still have plenty of comedy-ha-ha-good-times as Spork recounts her tale of getting pelted with eggs in Havana on New Years Eve, we play "Bowie or Bizkit," and we delve deep to find out what's in Shaw's craw.
Oh, and for those of you Bowie virgins out there, don't worry, Buck gives his list of where to start listening.  (Or go ahead and worry.  See if we care.)  But you can scroll down to buy the albums on our Amazon Store.
(And the show is NSFW as always.)
Subscribe on iTunes!
Subscribe on Stitcher!
Tip Us on Patreon!
Or listen directly here!

DRINK ALONG AT HOME!
The Ziggy Stardust
4 oz Vodka
1 oz Creme de Violette
2 dashes Orange Bitters
1/2 oz Goldschlager
Sprinkle of Cinnamon
Fire
Combine vodka, violette and bitters in a cocktail shaker with ice.  Shake and pour into a martini glass.  Pour the Goldschlager into a shot glass and light on fire.  Sprinkle cinnamon over the flame and watch it sparkle like Ziggy Stardust himself.  Then pour into a glass and drink, reminding yourself that the world is over four billion years old, and you were lucky enough to live at the same time as David Bowie.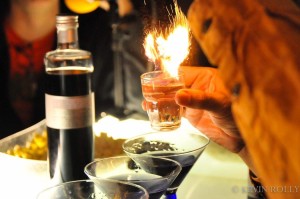 OUR HONORED GUEST
Andy Hermann is the kick-ass music editor for the Los Angeles weekly.  Read more about him here.
Andy's listicle tribute to David Bowie — 10 Reasons Why David Bowie Was Our Weirdest Rock Star — is here.
AND WE ALSO TALKED ABOUT…
Ann Power's NPR piece on David Bowie — Reflections of a Bowie Girl — can be found here.
Henry Rollins' L.A. Weekly review of Bowie's Blackstar is definitely worth a look here.
DAVID BOWIE'S MUSIC
We mentioned a few albums on the show, and Buck's list of the three albums to start on are:
– Hunky Dory (1971)
– The Rise and Fall of Ziggy Stardust and the Spiders from Mars (1972)
– Aladdin Sane (1973)
To that, Andy added:
– Let's Dance (1983)
That oughtta get you started.  We also discussed:
– David Bowie (1967) his first album
– Blackstar (2016) his final album
All of this is available in the Drunken Music section of the Army of Drunks Amazon store.  GO THERE NOW!
AS PROMISED, HERE'S A PICTURE OF SPORK IN THE STREETS OF HAVANA ON NEW YEARS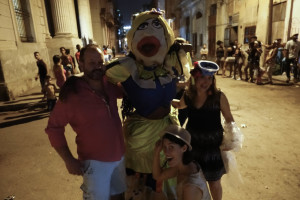 FINALLY, A RARE PHOTO OF THE DRUNKS IN THEIR NATURAL HABITAT.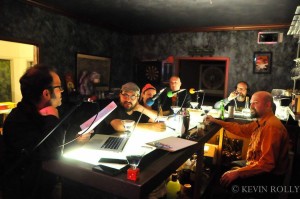 show copyright ©2016, Army of Drunks