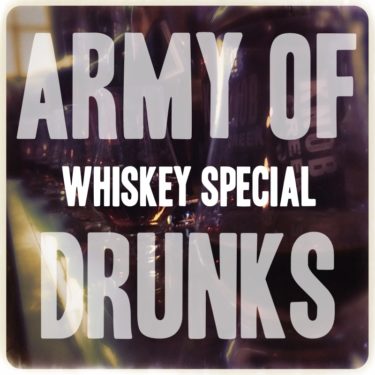 THE WHISKEY SPECIAL
with Alex MacKay
The Whiskey Genius
Summer is over, and it's time to go back to school.  This is Whiskey 101, where our good friend and not-self-described "Whiskey Genius" Alex MacKay takes you on a tour of some of the major whiskies of the world.
It's one of our longer shows, but by the time it's done, you'll have a better understanding of where the golden brown ambrosia* comes from, what's the difference between scotch and bourbon, why you don't want to drink Costco Canadian, and just which Batman is that whiskey you're drinking.
Joining us also is comedy writer and friend of the show Aydrea Walden.  She's good people.
Also, we cut a very long segment about how whiskey is made, but if you'd like to hear that, please join our Patreon campaign, and we'll give you access to our Back Room of bonus material!
* Please remind us never to use the term "brown ambrosia" ever again.
Subscribe on iTunes!
Subscribe on Stitcher!
Tip Us on Patreon!
Or Listen Directly Here!

DRINK ALONG AT HOME!
Since there's no cocktail this week, we thought we'd provide a list of all the whiskeys Alex brought for us to sample.  Note that most of these are available at your local BevMo, and you can even buy those tiny airplane bottles of some of them.  So keeping up with the drunks doesn't have to cost you an arm and a leg.
Here's a helpful chart to help you follow along on our journey up Whiskey Mountain.  Rather than using the usual descriptors of "taste" and "aroma," we decided to describe the various boozes in terms of actors.  This quickly devolved into describing them in terms of Batmans.  (Yes, "Batmans" is the plural of "Batman."  Look it up.)
 WHISKEY NAME
COUNTRY
WHICH ACTOR IS IT?
WHICH BATMAN IS IT?
 Costco Canadian
Canada
Steven Segal
George Clooney
 Nikka Coffey
Japan
Michelle Yeoh
Adam West
 Redbreast 12 Year
Ireland
Kenneth Branagh
Michael Keaton
 Johnny Walker Green Label
Scotland
David Tennant
Kevin Conroy
(The Animated Series)
 Knob Creek Single Barrel
America
We forgot to name one,
but say Steve McQueen
Will Arnett
(Lego Batman)
 Ardbeg 10 Year
Scotland
Christian Bale
Christian Bale
BONUS ROUND
Alex suggested a few other whiskies if you're feeling adventurous.  Or even if you're not.
Brook Laddie Scotch
Octomore Scotch
Maker's Mark 46 Cask Strength
Seven Stills Chcoolate Oatmeal Stout & I.P.A.
Midelton Dair Ghaelach Irish
Jameson Unblended 13-Year
OUR DRUNKEN GUESTS
Check out Aydrea's web series Black Girl in a Big Dress right here!
WANNA SEE SOME WHISKEY?