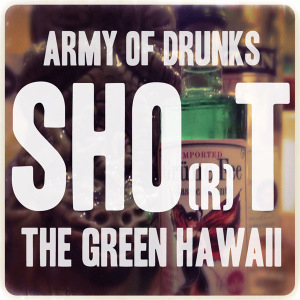 THE ARMY OF DRUNKS SHO(r)T – THE GREEN HAWAII
An Army of Drunks Original Cocktail For No Reason
Yes, the Army is releasing a "Short" or "Shot" or whateveryouwannacallit as we get in sync with the holidays.  Tonight we try an original cocktail: The Green Hawaii.  Why?  Because nothing says "aloha" like absinthe!  We also take an uncomfortably long time to sign off.  Mahalo, mofos!
Subscribe on iTunes!
https://itunes.apple.com/us/podcast/the-army-of-drunks/id936560275
Or listen on our host site!

DRINK ALONG AT HOME!
THE GREEN HAWAII
3/4 oz. Light Rum
3/4 oz. Vodka
1/2 oz. Absinthe
3 oz. Pineapple Juice
1 oz. Sweet & Sour Mix
Glass Type: Cthulhu-themed Tiki Mug or any vessel that's been cursed by dark forces and chilled for an hour.
PREPARATION
Combine all ingredients in a cocktail shaker or blender.  If using cocktail shaker, blend!  If using blender, shake!  Pour into glass.  Garnish with tiny black cocktail umbrella.  Enjoy on beach while writing poem about ravens, vampires or death.