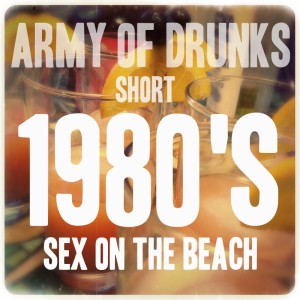 Short: 1980s – The Sex on the Beach
with the Army of Drunks
Why are we doing this?  Really, why are we doing this?  The 80s.  Was it the beginning of institutionalized Spring Break drinking, or did it just seem that way because everyone was young and drunk?   We take no steps toward finding out, but we do drive head-first into the Sex on the Beach cocktail.  And if it makes you feel any better, we don't enjoy it.
And if you can create one cocktail after an embarrassing Spring Break indiscretion, can you create more?  Find out as we reverse-engineer awkward sex acts into cocktail recipes.  And remember, Alcohol Jesus is watching over us all.
Subscribe on iTunes!
https://itunes.apple.com/us/podcast/the-army-of-drunks/id936560275
Or listen directly here!
DRINK ALONG AT HOME!
The Sex on the Beach
Pour everthing in a big glass with ice.  Stir.  Drink.  Throw dignity down toilet.  Repeat.
OPTIONAL MIXMA$TER THERM VARIATIONS
MixMa$ter Therm came up with a couple of variants to make to make the drink a little more palatable.
Variant One: Replace the Peach schnapps with Cointreau.
Variant Two: Replace the Peach schnapps with a float of Galliano.
OTHER SPRING BREAK SEX-ACT COCKTAILS!
THE SEX IN A MOTEL6
• Jaegermeister
• Plastic-lined glass
• Small bar of soap
THE BLOWJOB IN A PARKING LOT
• Midori
• Cream.
THE UNCOMFORTABLE THREEWAY
•Goldschlager
•Kahlua
•Coke
THE CONSOLATION HANDY
• Orbitz
• Popov
THE DANCEFLOOR DRY-HUMP
• Red Bull
• Dry Sack Sherry