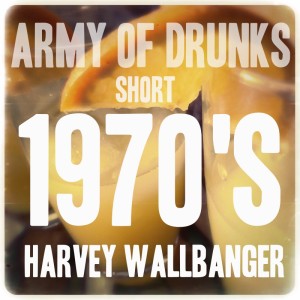 Short: 1970s – The Harvey Wallbanger
with the full Army of Drunks
Return with us to the 1970s —  an era of bell-bottoms, key parties, and generally terribly cocktails — to discover the Harvey Wallbanger, the most refreshing summer drink with the most fictionalized history in all of bartending.  The Army of Drunks asks the burning question: How can a cocktail made of so many lies take so damn delicious?
We also delve into the cocktail's inherent dichotomy:  Is Wallbanger is a girlie drink or a manly drink?  And play along at home as Eric challenges everyone to "Real Cocktail or Real Canadian?"  (Note: We clearly lost track of the score.  Sorry about that.  We were drunk.)
Subsribe on iTunes!
https://itunes.apple.com/us/podcast/the-army-of-drunks/id936560275
Or listen directly here!
http://traffic.libsyn.com/armyofdrunks/AOD_1970s_Harvey_Wallbanger_Show_1-2.mp3
DRINK ALONG AT HOME!
The Harvey Wallbanger
1 1/2 oz. (3 parts) vodka
3 oz (6 parts) orange juice
1/2 oz (1 part) Galliano (a.k.a. Liquore Galliano L'Autentico, if you want to be that way.)
Stir the vodka, orange juice and ice in a highball glass.  Float the Galliano on the top.  Garnish with an orange slice and serve outside on the lawn.
(Optional: Place all car keys in a bowl.  Blindly draw a set of keys from said bowl.  Match the keys with the car-owner.  Have awkward "swinging" sex with that person.)
FOR HISTORICAL REFERENCE: AN ORIGINAL "HARVEY WALLBANGER" SALES POSTER
(See what me mean about "Meth-Head Ziggy?")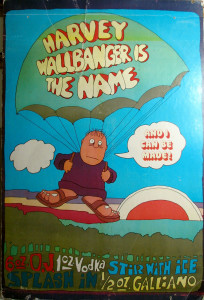 AND GRAB YOUR STRANGELY-UNRELATED WALLBANGER MERCH NOW!