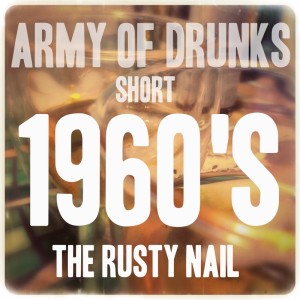 Short: 1960s – The Rusty Nail
with Katie Massa and Björk*
*The Icelandic bark liqueur Björk, not the Icelandic elfin singer Björk.
"Drink-a-Decade" enters the 60s with the Rusty Nail, a drink popularized by the Rat Pack and the best use of Drambuie since getting your grandmother to pass out at Christmas.  We explore the history of a cocktail with its roots in British Industry, but which never caught on until — surprise, surprise — a big-time liquor company got behind it.
Is it too sweet or just sweet enough?  Fortunately MixMa$ter Therm ran extensive experiments to find the optimal Rusty Nail scotch-to-Drambuie ratio, and we pass that hard-won information on to you.
We also sample Björk, the Icelandic bark-based liqueur that has nothing to do with the singer, honestly, but comes with a stick in every bottle, and play "Name That Sex Act" with Rusty Nails.  (NSFW as always.)
Subsribe on iTunes!
https://itunes.apple.com/us/podcast/the-army-of-drunks/id936560275
Or listen directly here!
http://traffic.libsyn.com/armyofdrunks/AOD_1950s_Black_Russian_Show.mp3
DRINK ALONG AT HOME!
The Rusty Nail – MixMa$ter Therm Ratio
5 parts scotch
2 parts Drambuie liqueur
There seems to be no clear consensus on the ratio of scotch to Drambuie in a Rusty Nail, with some recipes calling for as high as 1-to-1.  (And damn, is that disgustingly sweet.)  Our experience is that 5 parts scotch to 2 parts Drambuie yields a cocktail that's got enough of the sweet "delicious" factor without going too far over the line.  However, if that's still too sweet for you, a 4-to-1 mix might suit you better.
And as will all cocktails of the period, just mix everything in a glass with ice.  It's not that complicated.