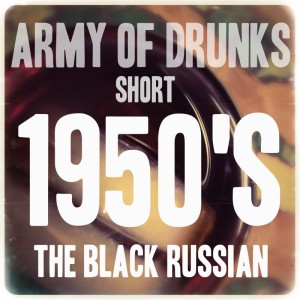 Short: 1950s – The Black Russian
with Katie Massa and The Municipal Bloodbank Players*
"Drink-a-Decade" enters the cold war with a cocktail created for the amabssador of Luxembourg.  (Seriously.)
It's the Black Russian, a drink so sweet and delicious you'll forget it was born under the shadow of two great super-powers who hoped to destroy each other.  Learn about the White Russian and other far-less-drinkable variations that you really don't want to try.  We also delve into the burning question of "Salve or ointment?" and also reveal where the hell Spork has been hiding all this time.  (Spoiler: It's all about the Coachella Hippos.)  And we play "Black Russian, Bond Villain or Porn Star!"
*The Municipal Bloodbank Players do not actually appear in this show.
Subsribe on iTunes!
https://itunes.apple.com/us/podcast/the-army-of-drunks/id936560275
Or listen directly here!
http://traffic.libsyn.com/armyofdrunks/AOD_1950s_Black_Russian_Show.mp3
DRINK ALONG AT HOME!
The Black Russian Cocktail
5 parts vodka
2 parts Kahlua or other coffee liqueur
Mix everything in a glass with ice and stir gently.  Really, it's that simple.  And to make a White Russian, just add 3 parts half-and-half.  (Or commercial "Mocha Mix" if you want to go the full Lebowski.)
AND HERE'S THE WIKIPEDIA ENTRY ON THE WOMAN WHO INSPIRED THE COCKTAIL ITSELF
http://en.wikipedia.org/wiki/Perle_Mesta
Ain't history grand?