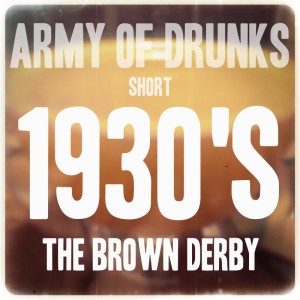 Short: 1930s – The Brown Derby
with Katie Massa and Jason Berlin
"Drink-a-Decade" rolls on like a runaway freight train that only smashes a stalled-out schoolbus once every two weeks!
Drink your way back to the Golden Age of Hollywood with the Brown Derby, a delightful blend of whiskey, grapefruit and honey that was possibly invented by Douglas Fairbanks, but definitely made famous in a giant hat.  Also, Jason Berlin spills the beans on his Evil Grandma Betty, and Katie Massa punches-out a raccoon!* (NSFW as always.)
*Katie Massa does not punch-out a raccoon.
Subsribe on iTunes!
https://itunes.apple.com/us/podcast/the-army-of-drunks/id936560275
Or listen directly here!
http://traffic.libsyn.com/armyofdrunks/AOD_1930s_Brown_Derby_Show_1-2.mp3
DRINK ALONG AT HOME!
The Brown Derby Cocktail
1.5 oz Bourbon
1 oz Fresh grapefruit juice (or from a jar, if you must, but don't used that sweetened stuff)
1/2 oz Honey syrup (like simple syrup, but with honey.  1 part honey, 1 part water, and hey, you can even make it on the fly if you're that kind of lazy*)
Put all ingredients in a cocktail shaker.  Shake.  Pour into glass, martini-shaped or otherwise.  Garnish with citrus peel of choice (except lime).  Drink.  Pretend you're Douglas Fairbanks or Carole Lombard.  Drink more.  Become convinced you're Douglas Fairbanks or Carole Lombard.
*But don't be that kind of lazy.  It's embarrassing.
DRUNK BOOK ALERT!
Once again, we referenced the Savoy Cocktail book in our show.  If you don't own it, you should buy it now.  That's an order.
And MixMa$ter Therm Goes All-30's and Gets Dressed-Up for Radio!
Which is more dedication than you ever showed.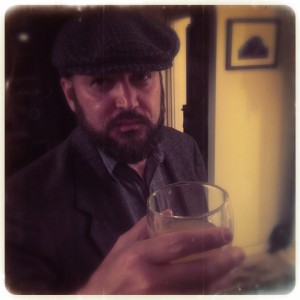 Finally, a Depressing Photo of Brown Derby Plaza
And a link to the Yelp review of their apparently-shitty valet parking.