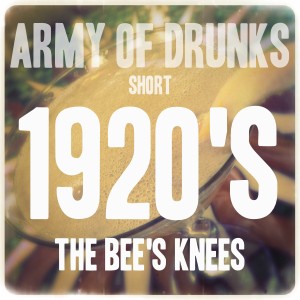 Short: 1920s – The Bee's Knees
with Katie Massa and Jason Berlin
It's "Drink-a-Decade," which is as catchy as we can pull off when we've had a few.  The Army of Drunks is profiling one cocktail to represent the spirit of each decade, and we're starting with Prohibition.  Enjoy the 1920's-era Bee's Knees, the cocktail so delightfully sweet it can mask even the most formaldehyde-laden bathtub gin.  (But we suggest something botanical.)  Buck and Vanessa are on break, so welcome Katie Massa and Jason Berlin, who can tell you all about evil grandmas and getting arrested while wearing Daisy Dukes.  (NSFW as always.)
Subsribe on iTunes!
https://itunes.apple.com/us/podcast/the-army-of-drunks/id936560275
Or listen directly here!
http://traffic.libsyn.com/armyofdrunks/AOD_1920s_Bees_Knees_Show_1-2.mp3
DRINK ALONG AT HOME
The Bee's Knees Cocktail
2 oz  Gin (Dry gin is more historically accurate, but botanical gin works like magic.)
3/4 oz fresh lemon juice
3/4 oz honey simple syrup (one part honey, one part water)
Lemon twist to garnish
First, choose your gin.  Yes, a dry gin is more historically accurate, but a more modern botanical gin mixes really well with the honey.  (And face it, if you really wanted to be historically accurate you'd use bathtub gin mixed with formaldehyde.)  Then make some honey simple syrup the same way you make regular simple syrup, but with honey.  (We know that's complicated, but breathe through it.)  Then squeeze a lemon, because anyone using store-bought lemon juice is a bounder and a cad.  Mix all the liquid ingredients in a shaker.  Shake like the cops are busting down the door.  Pour into your glass of choice (a martini glass works nicely), add the lemon twist and enjoy.
MixMa$ter Therm dresses for the decade.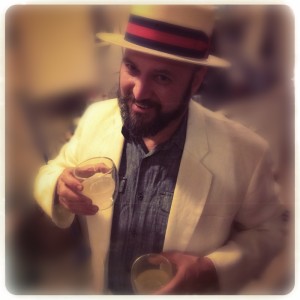 And Buy Your Katie-Approved Daisy Dukes here!
Along with other fine products at our Drunkstore!