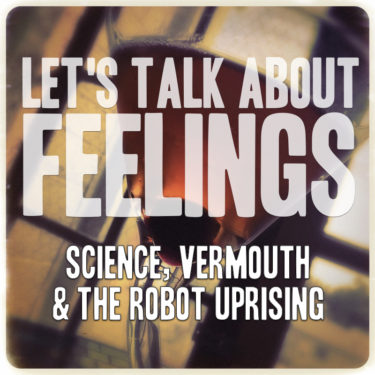 LET'S TALK ABOUT FEELINGS:
Science, Vermouth & The Robot Uprising
with Scientist Ian McEwan
Welcome to the Army's newest experiment: "Let's Talk About Feelings!"  A show where we get a little deeper and a little drunker into a topic of choice with our valued guest.  So let's hear a little more on the future of science in America from scientist Ian McEwan.  (WARNING: What he has to say is way more interesting than what we have to say.)
OTHER WARNING: There are maybe fewer dick jokers per hour in this format.  Just roll with it.
We also get a little deeper into just what the hell is vermouth, anyway.  Do you care?  YES, YOU DO!
Subscribe on iTunes!
Subscribe on Stitcher!
Tip Us on Patreon!
AND OH YEAH, VERMOUTH!
Here's a little piece from Cocktail God David Wondrich on the Wonders of Vermouth.  Read it, you lazy drunk bastard.
http://www.esquire.com/food-drink/drinks/a22162/why-the-aperitif-0513/
NOTE:
Ian wanted to correct a small fact.  It turns out sperm whales do sleep, they just do it in six-to-ten minute increments.
Photographer Captures Incredibly Rare Shot Of Sperm Whales SleepingDid you ever imagine the sperm whales sleeping? How would that look like..? If you still can't picture that, then let the Swiss photographer Franco Banfi help you out.demilked.com