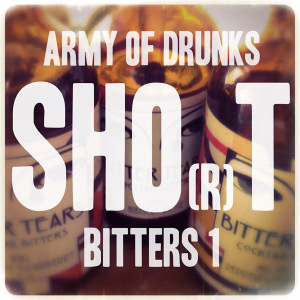 THE ARMY OF DRUNKS SHO(r)T – BITTERS (the first)
With Taylor and Jeremy from Bitter Tears.
We'll be back with a full show next week, but in the mean time learn all about bitters — and bitterness — with Taylor and Jeremy from Bitter Tears as we get drunk on the "Pork and Beans" cocktail, unearth Taylor's Aunt's torrid affair with Charles Bukowski, and learn that little ice cubes are for punk-ass chumps.  (NSFW, as usual)
Subscribe on iTunes!
https://itunes.apple.com/us/podcast/the-army-of-drunks/id936560275
Or listen on our host site!

DRINK ALONG AT HOME!
THE PORK AND BEANS
2 oz Bulleit Bourbon (or any brand you hold regrets over)
3/4 oz Copa de Oro Coffee Liqueur
4 pulls Bitter Tears "Ms. Piggy" Peppercorn Bacon bitters
PREPARATION
Combine bourbon, coffee liqueur and bitters in a mixing glass half filled with ice. Gently stir until chilled and properly diluted, about 20 seconds.  Julep train into a chilled coupe or cocktail glass.  Drink while thinking of what might have been.
BITTER TEARS can be found at:
http://www.bittertears.la/

And look for their pop-up bar at Bitchcraft Los Angeles.
https://www.facebook.com/events/736282523074071/